We're Getting Mutants in the MCU - The Loop
Play Sound
Ochiyuku Hasu No Hanabira Rinne Wo Mitsumete(堕ちゆく蓮の花びら輪廻を見つめて) is a song by Mushoku no Sora to Warau Ito. It was released on March 27, 2019, as a part of '堕ちゆく蓮の花びら輪廻を見つめて' and '音戯の譜 〜CHRONICLE〜' albums.

Audio

or Soundcloud link here

Music Video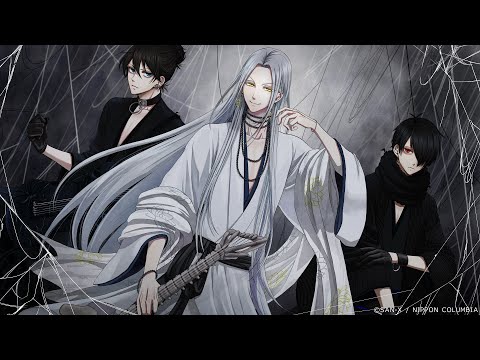 Romaji version made by Zarya Moonwolf! Here's the link of the transliteration.
Lyrics

仄暗い深淵が横たわる

地の底に蠢くは烏合の衆

 

蓮池の花は静かに佇む

生命(いのち)の刹那を見つめて

 

繰り返す不毛の年月に このまま終止符を

繰り返し積み重なった戯言には 消滅を

一滴(ひとしずく) そのまま 堕ちゆく

絶望の深い闇の中

 

生と死の境界線 触れる時

六道の輪廻へと往く業(かるま)

 

蓮池のほとり 無常を観ずる

真理 不条理を 携え

 

繰り返す不浄の魂に このまま終止符を

繰り返し騒ぎ立てる者に 更なる轟音を

光る糸 果たして救済

新たなる地獄の入り口

 

繰り返す不毛の年月に このまま終止符を

繰り返し積み重なった戯言には 消滅を

一滴 そのまま 堕ちゆく

絶望の深い闇の中

 

紅蓮が 照らす因果

望むは 永遠(とわ)の静寂

Honogurai shinen ga yokotawaru

Chi no soko ni ugomeku wa ugou no shu

 

Hasuike no hana wa shizuka ni tatazumu

Inochi no setsuna wo mitsumete

 

Kurikaesu fumou no toshitsuki ni Kono mama shuushifu wo

Kurikaeshi tsumikasanatta zaregoto ni wa Shoumetsu wo

Hitoshizuku Sono mama Ochiyuku

Zetsubou no fukai yami no naka

 

Sei to shi no kyoukaisen Fureru toki

Rokudou no rinne e to yuku karuma

 

Hasuike no hotori Mujou wo kanzuru

Shinri Fujouri wo Tazusae

 

Kurikaesu fujou no tamashii ni Kono mama shuushifu wo

Kurikaeshi sawagitateru mono ni Sara naru gouon wo

Hikaru ito Hatashite kyuusai

Aratanaru jigoku no iriguchi

 

Kurikaesu fumou no toshitsuki ni Kono mama shuushifu wo

Kurikaeshi tsumikasanatta zaregoto ni wa Shoumetsu wo

Hitoshizuku Sono mama Ochiyuku

Zetsubou no fukai yami no naka

 

Guren ga Terasu inga

Nozomu wa towa no seijaku

⚠Auto translated. May contain some errors ⚠

A dark abyss lies

In the depths of the earth is a crowing crowd

 

The flowers in the lotus pond stand quietly

Gazing at the fleeting moments of life

 

I want to put an end to the barren years that keep repeating

I hope that the nonsense that has piled up over and over again will disappear.

A single drop, just like that, will fall away

In the deep darkness of despair

 

When I touch the boundary between life and death

The karma that leads to the reincarnation of the six realms

 

By the lotus pond, I see the impermanence

Carrying the truth, the absurdity

 

I wish to put an end to the repetition of impure souls.

To those who repeatedly make noise, let there be a further roar

The shining thread, finally, salvation

The entrance to a new hell

 

Put an end to the years of barrenness

To the nonsense that's piled up over and over again, let it disappear

A drop, just as it is, will fall

In the deep darkness of despair

 

Causality illuminated by the red lotus

I hope for eternal silence